Alright, I'm re-posting this blogpost because I think I can finally embed the video :p
Was really honored to have recorded a short commercial for Popeyes recently along with some of the most entertaining people ever! :D
The location was Punggol's Popeyes in case you were wondering :)
My part starts from 2:58! ^~^
And here is a .gif I made from the scene with me and Hirzi!
He has really fucking crazy and kick ass awesome videos with Munah (but she had school on the day of filming so she couldn't come), so do check out
their channel
!!!! You'll get addicted to it ;)
Our three cheers scene which wasn't included in the end haha!
But we all looked happy (though unglam with our mouths open so wide) so I'm just going to upload them anyway!
promotions, competitions for FREE VOUCHERS and much more posted there :)
I've Liked it cause I'm personally a fan of Popeyes!
Their chicken and nuggets are yummy but I personally think nothing beats their mash potato, cajun fries and biscuit!!!! b:
And here's something to be excited about!!!
POPEYES DAY!!!
5 pieces of chicken at at $5.90?!
COUNT ME IN! :O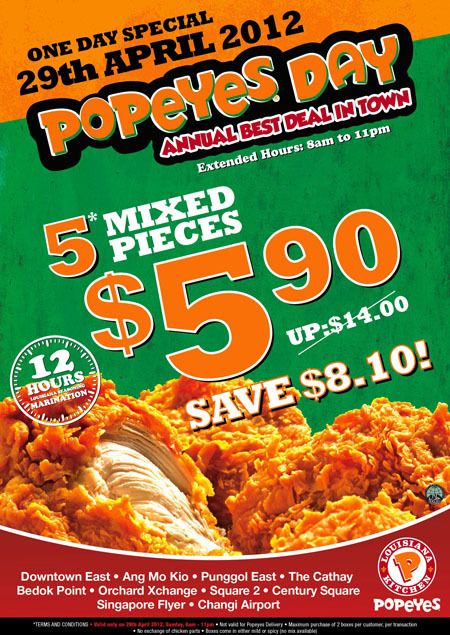 Hope this makes you hungry!
Thanks for reading, love you all! ^~^