Received this CHARLYNNA FUZZY PULLOVER the other day from
Otmill
and I was so pleasantly surprised at how comfortable this piece is!
Totally unexpected!! :D
Quote "RACHELL10" for 10% off your purchases!
I fell in love with the design of the pullover initially but it proved to be much more than just a pretty piece,
it's EXTREMELY soft and comfortable, and not to mention how perfect it is for this Christmas!!!
Knit tops and pullovers are a MUST for this holiday season, so remember to get yours now if you haven't already done so! :)
Quote "RACHELL10" for 10% off your purchases!
There is also a $10 SALE going on at Otmill until the end of the year :D
If you'd like to receive notifications on their special promotions and updates on new collections,
do subscribe to their newsletter
Went to the Gala Premiere of CZ12 at Resorts World Singapore with Martin today thanks to NuffnangSG! :D
Wore my houndstooth blazer because I was running a temperature and I felt really cold even when I'm not in an air conditioned room and this blazer was particularly snuggly! :)
We were told that Jackie Chan was going to grace the event, so it's no surprise how packed the place was!
There were so many of his supporters present we couldn't even get closer to the stage haha!
The movie was screened at Festive Grand Theatre, which really lives up to its name - it's SUPER GRAND, really comfortable and spacious too!!
It's my first time there and the place was absolutely mind-blowing!
We also saw many local celebrities such as Pan Lin Lin and her husband at the theatre! :)
There was a short introduction before they screened the movie CZ12 where Jackie Chan and his co-actors went on stage to speak briefly about the film
and he was just an amazing character!!
I don't mean just on film, but in real life as well!
He's so relatable, so down-to-earth, humble, enthusiastic, honest and also very very funny!! XD
They had a mini lucky-draw on stage where there was only ONE prize given out, and Jackie Chan said one is too little, and spontaneously got his manager to pass him their limited edition CZ12 iPhone cases and USBs (he said he initially wanted to give them to his friends)
and he held more lucky draws on the spot on his own accord!!! :O
Super funny right hahah!!
He's such an icon and yet he totally doesn't put up any airs, serious respect!
I'm really really glad that our familiar childhood superhero is such an awesome figure in real life as well :')
Thank you NuffnangSG for this unforgettable experience of seeing Jackie Chan live!
This was the only picture I managed to take of him (secretly) using my iPhone because we weren't allowed to take any pictures at the gala premiere actually :X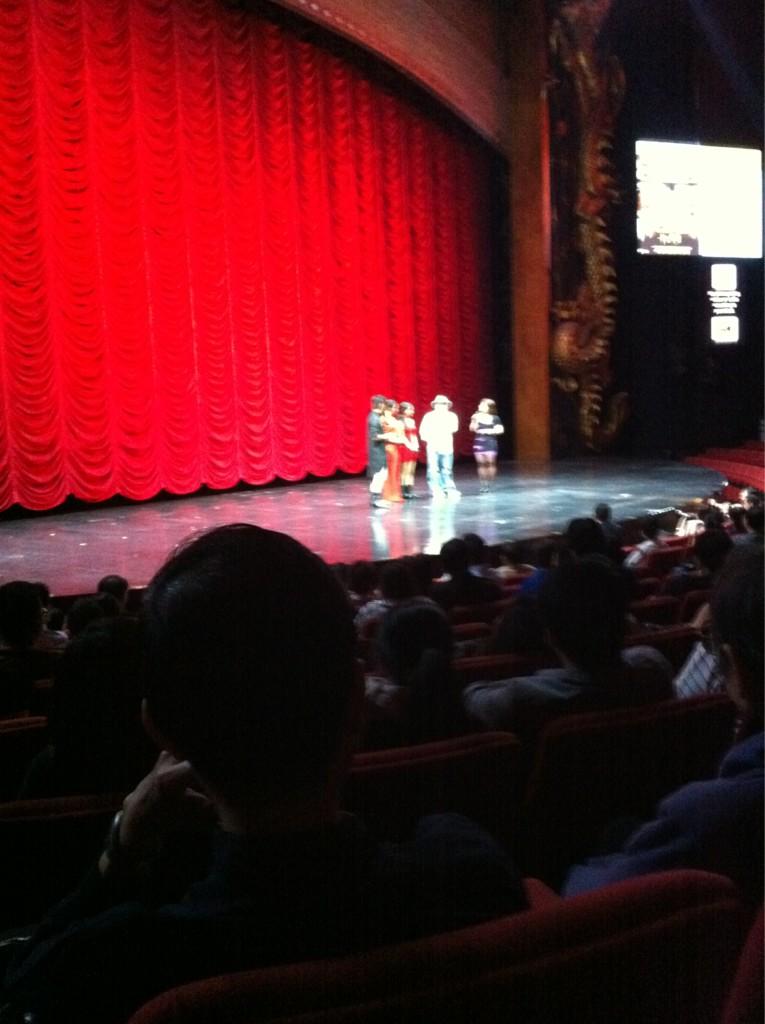 And as for my thoughts about CZ12,
I'D TOTALLY RECOMMEND IT TO ANYONE AND EVERYONE!
As expected of a Jackie Chan film, tons of hardcore action that will make your jaw drop plus a lot of hilarious scenes!
I was on the edge of my seat during the entire movie because it was really exciting as well, and there are always surprises at every other part of the movie!
The dangerous stunts, the flawless choreography of the fighting scenes, the plot full of twists, the girl with long hot legs (who's also a real taekwondo champion btw), the special effects
and the very fact that this is a Jackie Chan movie - totally worth paying for!!
After watching the gala premiere of the movie, I told my mum I'll bring her to watch it again once it hits the big screen!
I even forgot about my fever and running nose during the movie haha xD
So do check out the trailer of CZ12:
Thank you for reading, love you all!